Independent Brand Partner Steve Engleman was recognized as Big of the Year at the annual The Big Event and Impact Awards this month at Greektown Casino and Hotel in downtown Detroit. Steve became a Big Brother in January 2015 when he was matched with a 9-year-old boy named Seth.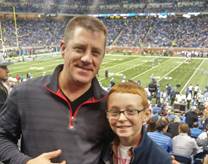 Steve was inspired to become a big by a mentor of his own who promised him that becoming a Big would be one of the most rewarding and gratifying experiences of his life.
"The experience has been nothing short of amazing," said Steve. "It has given me more than I ever imagined and provided me with the ability to make a difference in another person's future. My relationship with my little, Seth, has grown and we have built a strong friendship based on trust and mutual interest in helping Seth grow and stay on course for reaching his goals."
Seth and Steve spend time together on a regular basis, taking in ball games, going boating and various other activities. Their time together is a chance for Seth to get to experience things that he otherwise would not have access to enjoy, but it also provides them with a chance to get to know one another and discuss the challenges in Seth's daily life and the plans he has for his future.
"We both look forward to our time together and our friendship continues to grow with every outing," Steve said. "I am sure that our friendship will result in a life-long relationship that will continue to bless us both. As a Big, I can honestly say that the mentoring programs through BBBS are a gift to people like myself.
"A gift that gives you the ability to serve God and to be a shepherd to one of his children. I encourage each and every person to consider getting involved in one way or another to assist and promote the incredible mission of BBBS."
Congratulations, Steve!