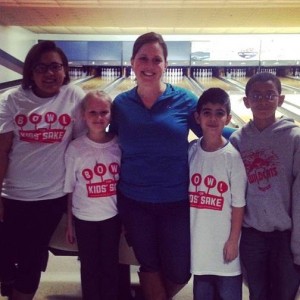 Morgan Ott has always had a heart for servant leadership and volunteered annually as a team captain on her advertising agency's bowling team during the Big Brothers Big Sisters Bowl for Kids' Sake fundraiser. Later, as she was staying at home to raise her young children, her local BBBS chapter recruited her to work part-time as their Community Engagement Manager.
That's when she found out about Neora. "A great friend of mine sells Neora and after months of stalking her Facebook page, I knew I wanted the amazing product," Morgan said. "When I heard about the company, their mission and their HUGE support of Big Brothers Big Sisters, I was completely sold."
She became a Brand Partner in December 2014 because she believed in the product, and because she had seen first-hand the loving, caring and sharing spirit of the company. As of March 2015, Morgan is a Senior Director with Neora and says, "I am so thrilled to be on the ground floor of an amazing company that cares about its team, the people they help, and the communities in which they thrive."
Needless to say, Morgan led the charge to support her local agency through a successful Neora-hosted Bowl for Kids' Sake event in Louisville, Ky., in April. Thank you, Morgan, for all you do!